June 8th was a day we will never forget! On this day, we had the honor and privilege of hosting and celebrating the wedding of the Caitlyn Deason and Parker Burns! Keep reading to see photos and hear the special moments of their big day!
Caitlyn and Parker's love story begins all the way back in Kindergarten. These love birds spent their entire childhood living within two miles of one another, attending the same school, and riding Bus #1 together. Though they first met their true love at the ripe age of six years old, they didn't officially begin their relationship until the were 16 and 17. The couple started dating the summer before their Junior year of high school and have been together ever since, almost 8 years!
Caitlyn spent the morning in our farmhouse getting glam with her bridal party. The girls' matching silk robes were the perfect attire to lounge in while getting pampered by
Hair + Makeup Stylist Tiffany Ortega from Hermosa Salon.
Caitlyn's stunning lace wedding gown from Bella Rose Bridal was absolutely breathtaking. The boldness of the deep back complimented by the sweetness of the glimmering gems was the perfect combination for her warm and sunny June wedding.
Her Bridesmaids beautiful teal green gowns ordered from AZIZEH were handpicked by each girl to match their personal style and personality.
Though all wedding bands have a special significance and are a treasure to the Bride and Groom, Caitlyn and Parker's bands are especially important. Caitlyn's band was custom made by J. Thomson Jewelers. The company worked alongside the bride and groom to make the most sentimental bands a couple could ever hope for. Caitlyn was given her grandmother's ring which she was able to melt down and use for the band potion. Then, Parker paired it with the diamonds from his grandmother's wedding ring to create the a gorgeous engagement ring. Embedded along the outside of the band were gorgeous blue sapphires that Parker's grandpa had brought back from Vietnam during his days as a fighter pilot in the war. Parker's wedding band was his grandpa's ring. These rings are truly a gift to one another and mean so much for many reasons!
Caitlyn and Parker decided to say " I Do" at one of our most popular ceremony locations - our wedding tree. This tree is so precious to us because like a husband and wife become one on their wedding day, this tree that was once two independent trees, have grown together as one.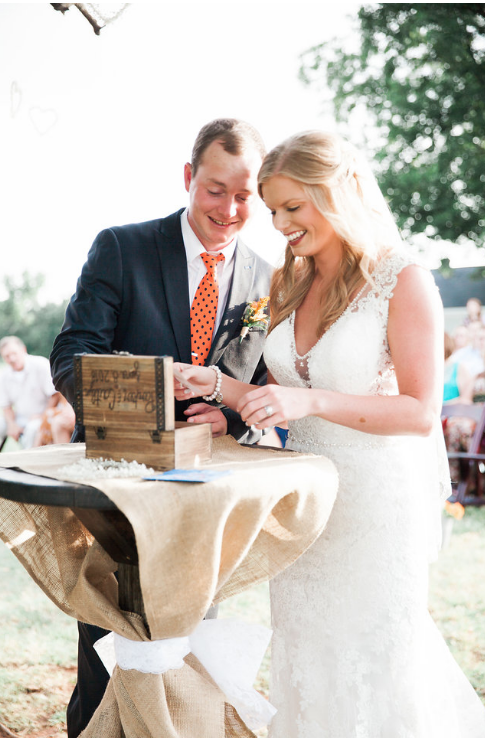 The Bride and Groom opted not to see eachother before the ceremony, which made this walk down the aisle extra sweet! Caitlyn said: "I liked waiting. I wouldn't do it differently. I wanted the first time we saw each other to be when I was walking down the aisle. I think there is a lot more emotion and excitement that way." All of her wedding day visions became a reality with the help of Day of Coordinator Jennie Bruning.
And of course no wedding day would be complete without the little details! Mary Keen with Mary Keen Photography was there throughout the day to capture all of the moments that would become memories.
After saying their vows and snapping some photos, the newly weds and their bridal party joined their guests in the barn for an evening full of games, dinner, and dancing! Disc Jockey's entertainment kept the part pumping all night long. Caitlyn said: "I loved the entire reception. We will probably never have everyone who cares that much about us in the same place at once again. It was such a fun, upbeat night! I wish I could relive the reception every year!"
Theses delicious and decadent desserts were provided by the one and only Mishelle Handy Cakes
Our favorite photo bus also made an appearance at the reception! We love the fun and unique experience that Wolfsburg Photo Bus brings to the party. Guest go wild over dressing up and climbing in the old VW to snap some pics.
As the night came to a close, the couple got to share one last private dance together before the left the scene. While their guests were busy lighting their sparklers, Caitlyn and Parker swayed to "Only you Can Love Me This Way" by Keith Urban, the song they have been listening to since they first started dating. The couple then had their grand exit by running through a tunnel of sparkers being twirled around by their family and friends.
Caitlyn's wedding day advice for future brides is:
"Don't stress the small stuff, no one will notice it. Enjoy every second. It goes by way too fast! And only you will know if something goes "wrong", so don't sweat it!"
We are wishing you two the happiest forever and hope that you had the best time on your honeymoon to Cost Rica! Thank you for letting us be a part of your special day!